Research: Out of Home:
Brand Science recent OOH research findings on econometrics and ROI:
OOH delivers a much greater reach efficiency than TV and an ROI two times greater.
OOH requires less investment to achieve each percentage point of recall vs TV.
OOH extends the half life of a campaign by 30%.
Combining OOH with other media formats has proven to expand ROI!
Research: Out of Home
Brand Science also looked at two individual case studies to better understand the effects OOH has on efficiency and ROI. The first study looked at a campaign split across TV, Online and OOH commencing with a top heavy TV blast followed a week later by a two week OOH campaign and online.
The Investigation
• TV: $966,000
• OOH: $184,000
In the second case study Brand Science looked at how diversifying a campaigns media mix would affect ROI and the diminishing returns of its traditional TV spend.
The Campaigns:
• Year 1: TV 100% ($3 million spend)
• Year 2: TV 80%, OOH + Radio 20% ($3 million spend)
The Results:
• Year 2 delivered an 11% increase in ROI compared to year 1!
Sources: Brand Science, OMA
Research OOH:
Vision Critical recently conducted a comprehensive study comparing Out-of-Home and television advertising campaigns across five various product categories in two markets to analyse the levels of effectiveness, reach and impact and engagement these media formats had on their consumers.
Cost Effectiveness (Spend/Recall performance):
• In all but one of the campaigns tested, OOH outperformed TV. • OOH required less investment to achieve each percentage point of recall vs TV - FMCG category advertising was 78% more effective than TV.
Adding Reach and Impact:
• Despite larger TV budgets for all but one campaign, OOH advertising delivered more unduplicated recall than TV in three campaigns.
• OOH advertising is capable of delivering more unduplicated recall than TV!
Connecting and Engaging Consumers:
• The study also examined specific brand metrics including influence on purchase intent, seek more information and likelihood to recommend.
• Results found OOH to be 15% more effective when compared to TV!
Sources: Vsision Critical, OMAC
Research:
A recent study by Millward Brown, which analysed five years worth of various advertising has found:
Out of Home advertising proved to be as effective as television at driving consumers to search for brands online. When taking costs into account OOH proved to be, by far, the most efficient media!
With this in mind:
73% of Australians find billboard advertising to be most useful for driving them to websites.
57% of Australians see billboards everyday/several times a week
Sources: SSI, Millward Brown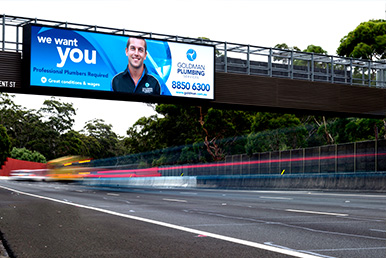 Brands cannot afford to be over looking the power of this everyday mass reaching media channel!
1300 750 922